Welcome back to the Mommy Brain Mixer! Thanks to all you joined us for the Mixing Party party last week. I got some great ideas for holiday entertaining from all of you. If you missed it you can visit the Mixer  or check out the Pinterest board I created just for the Mixer.
With the Christmas just around the corner, I'm getting our house and hearts ready to celebrate this joyous time of year. When Emmerson was two years old, I decided I needed to start more formally teaching her about the birth of Jesus and the reasons we celebrate Christmas. I was raised Catholic and Jon is Lutheran. We both attended Christen schools as kids and had a daily religion class. Despite, my formal religious education, I wasn't sure how to incorporate Bible readings to engage a toddler or even how much to share with her. During my research, I came across Amanda White and her ebook Truth in the Tinsel. It was exactly what I needed and we have been using her curriculum during Advent ever since.
Amanda created the ebook  for preschoolers thru early elementary. As I mentioned, we started when Emmerson was two and a half. I did make some modifications to adjust for her age but honestly I feel it's very doable even with a toddler (and some patience from Mom). You can visit this post to see how we used Truth in the Tinsel our first year.
In a nutshell, the ebook outlines 24 activities for the 24 days leading up to Christmas. Each day there is a Bible passage to read and an ornament making activity  to go along with it. If 24 is too much, Amanda includes several alternative schedules such as once a week. You can make you own schedule or do all 24 days. The ornaments are simple and chances are you have most of the items to make them around the house. To make it easy to gather your materials, the ebook includes a full supply list as well as a daily list  just in case you pick and choose your days. To make it easier Amanda also sells printable ornaments, no extra materials needed except some crayons.
I've also created a Pinterest board for Truth in Tinsel and other advent countdowns.
How do you countdown to the holidays with your family? Do you use an Advent calendar?
If you like this post you may want to Subscribe to Working on a Project. Leave a comment and let's chat! I'm on Facebook and Twitter. Oh and don't forget about Pinterest and my favorite, Instagram (nicolette_springer)!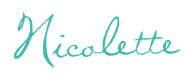 Welcome to the Mommy-Brain Mixer! We invite your to share about anything and everything motherhood or little people related. Be sure to visit one another. This mixer is all about building community between moms.
Don't forget to use the hashtag "mommybrainmixer" when sharing across social media!